Electrical Hazardous Area Classification
When electrical equipment is used in, around, or near an atmosphere that has flammable gases or vapors, flammable liquids, combustible dusts, ignitable fibers or flyings, there is always a possibility or risk that a fire or explosion might occur. Those areas where the possibility or risk of fire or explosion might occur due to an explosive atmosphere and/or mixture is often called a hazardous (or classified) location/area.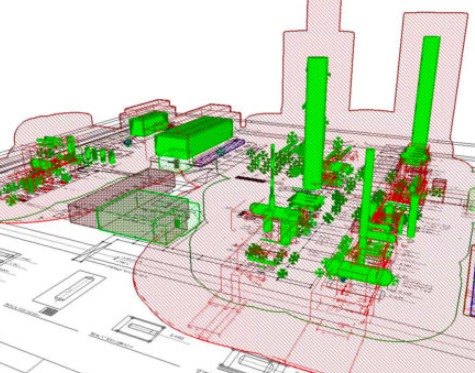 VB Engineering India Pvt Ltd provides a special and professional service of hazardous area classification (HAC) to its clients. The service is a combination of electro chemical hazards evaluation.
Our expert inhouse team had delivered hazardous area classification services to various domains like oil & gas, chemical, pharma, fmcg manufacturing units.
A hazardous area can be defined as any location where there is risk of an explosion. But every hazardous area is different, and each has specific requirements depending on the nature of the atmosphere and the elements that are present.
Hazardous locations per the Class/ Zone system will be classified according to its Class/Zone which can be gas or dust. For gas atmospheres electrical equipment will be further divided into Groups and Subgroups.
VB team will visit your plant and will conduct a comprehensive Hazardous Area Classification for your electrical systems.
Hazardous area classification procedure to be followed:
Determine the type of hazard or "class" that might be present—combustible gas (Class I), combustible dust (Class II), or fibers (Class III).
Identify the specific "group" for the hazardous substance (Group A through Group G).
Determine the degree of the classification (Division 1 or Division 2).
Determine the extent of the classified locations.
Hazards Identification and Categorization:
Identification of potential release sources
Estimation of the release duration
Present system of ventilation and its effectiveness
Determination of possible ignition mixture(s)
Electrical Area Classification study will review the existing Hazardous Area Classification of the plant with respect to international standards NFPA 497,70 and 499, IEC 60079-10-1 and IEC 60079-10-2. The study will review the selection of electrical equipment installed in the hazardous area as per NEC and IEC guidelines.
Typical Study comprises of A Classification of Hazardous area as well as inspection of hazardous area electrical equipment complying with the classified area with respect to the standards will be done.
Contact our team today and get the hazardous are classification done for your electrical systems.