Arc Flash Risk Assessment for Oil Rigs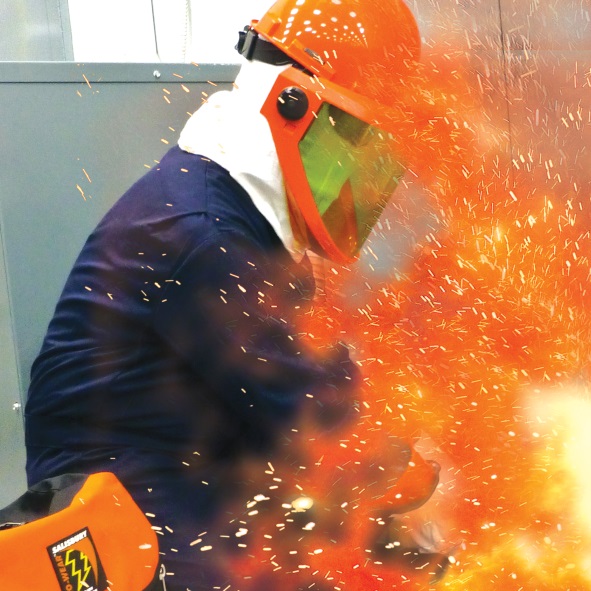 Electrical safety plays a crucial role in the field of oil and gas production rigs. Especially for oil and gas industry, the electrical safety needs to be of highest standard possible. Weather the oil and gas production rig is onshore or offshore we have to take maximum care without compromise. Electrical installations play a crucial role when evaluate our safety systems for the oil refinery, oil and gas drilling companies or oil rigs.
As we know the electrical installations are vulnerable to short circuit hazards we should take at most care with reference to their safety. The short circuit hazards will eventually lead to arc flash hazards and cause huge fire accidents in the system. Arc flash hazards ate very serious concern especially when we work with oil & gas Fields or oil and gas drilling companies. The risk pertaining to the electric arc flash is very huge for oil rigs as the arc flash hazard is not just electrical and will lead to a fire accidents causing severe explosions. These arc flash risks for oil rigs and gas refineries will not only cause financial and life loss but also cause severe environmental damage which invites huge amount of fines from the respective bodies. To avoid such incidents, oil and gas production rigs need to do arc flash hazard analysis, electric safety training and NFPA 70e training.Know More
Data Collection and SLD Preparation
Short Circuit Studies
Relay Coordination Studies
Arc Flash Risk Assessment
Related Services
We need to identify, asses and mitigate these arc flash risks by performing a scientific study of arc flash risk assessment as per international safety standards. The results and recommendations of arc flash survey for oil rigs shall be strictly implemented in working area for ensuring the safety of individuals. After Arc Flash Analysis For Oil Rigs, Usage if the recommended ppe (personal protective equipment) and work permits shall be strictly implemented avoid the arc flash risk. We at VB ENGINEERING provide expert consultancy for conducting arc flash risk assessments for oil and gas sector ( arc flash survey for oil rigs ) as per NFPA 70e standards.
We also adopt IEEE 1584 and NEC standards for conducting this scientific study for oil rigs or oil and gas production rigs. Our arc flash risk assessment services and electric safety training for oil rigs will be a turnkey solution. Our arc flash risk assessment services include data collection, design, analysis, recommendations and implementation. The total cycle of execution will be single window solution for your arc flash risk assessment requirement and nfpa arc flash study. Our team of experts will provide you with existing system conditions and recommendations for improvements required to comply with NFPA 70e standards with electric safety training. We also design warning labels, ppe and approach boundaries as per the NFPA standards to ensure the safety of the working people in the oil rig. Please contact us today to get the estimate for your oil rig or refinery today.Know More
People who took this Service also opted for following services